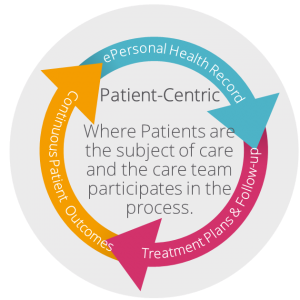 ---
Clinical-quality personally managed electronic Personal Health Record ("ePHRecord") is the foundation of an Integrated Treatment and Coaching Plans available to all Care Team participants including a a family or friend as a caregiver or their health representative.
Treatment Plan and Follow-up is a collection of scheduled tasks like a project containing tasks (e.g. start – end, resources, frequency) each with an itemized list of actions to be completed as part of a task. The task could be daily route or appointment. Follow-up, education and coaching are the activities scheduled as reviews based on the transactional evidence (or not) provided by the patient or caregiver in working the Plan.
The evidence "completion" of action item and any observations made during the delivery of the services are called a Transaction and becomes part of the Continuous Patient Outcomes Analysis and reporting process.
These foundation processes then are part for the Medical and Allied Medical Practitioner eChart and Care@Home applications which are planned for 2018 releases.